Current Fundraisers 2022-2023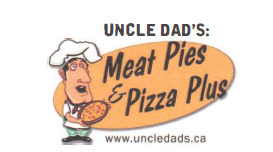 Home made meat pies and thin crust pizzas. We are a family owned business. We are currently found in over 40 different farmers markets across Southwestern-Ontario.
---
On sale starting: Sunday, March 05, 2023
Orders and full e-transfer payment due: Thursday, March 16, 2023
Pick-up date at Lucan Arena parking lot: Wednesday, March 22, between 5:30pm and 6:30pm
Special Note: If a family wants to develop a special bundle that is not offered, please contact Lindsey at lucanskatingclub@gmail.com with 'SPECIAL REQUEST' in the subject line
To order: Please email one total/complete order form and submit with one total/complete payment via e-transfer to: lucanskatingclub@gmail.com
Email subject line for order AND e-transfer message MUST include: skater's name/fundraiser name
as this is the only way for us to connect your order to the correct fundraising bond!
NOTE: All fundraising order forms must be legible and be scanned/emailed to lucanskatingclub@gmail.com. No paper forms will be accepted. Email Subject Line must include: Skater Name/Fundraiser Name
Payment: Complete order payment must be sent by e-transfer to lucanskatingclub@gmail.com. We will not accept multiple payments per order submitted. We will not accept cash/cheque or credit card. E-transfer Message must include: Skater Name/Fundraiser Name
For questions please contact Fundraising Chair Lindsey at lucanskatingclub@gmail.com

FlipGive - Earn cash back for online shopping and gift card purchases from supporting brands
Download the FlipGive App or visit www.flipgive.com/join to sign up. You will be asked to enter your unique team code to join (see below).
Be sure to add the FlipGive Max Browser Extension on your computer so you are notified when you can earn cash back!
IMPORTANT: When creating your account on FlipGive please include the Skater name and/or Member name and email address that is connected to your skating Membership Account. This is the ONLY way Lucan Skating Club can connect what you earn and provide refunds towards your Fundraising Bond!
You will also get an email invite directly from FlipGive.
***FlipGive fundraising will be open until March 26, 2023***
Team: Lucan Skating Club 22-23
Team Code: LMXCMG